Our Staff
Our dedicated staff are here to provide support, compassion, and information to help you through your journey of grief and the celebration of your loved one's life.
Lewis Brothers Funeral Chapel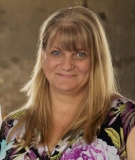 Anna Gottman
Office Manager/ Funeral Director
Anna started working with the Lewis Brothers Funeral Chapel in 2019 as Office Manager. While working in the background assisting funeral directors and families, she decided to pursue an apprenticeship in funeral directing. After completing her apprenticeship and extensive testing she accomplished her goal of being able to better serve families during difficult times.
Anna grew up in Hannibal, graduating from Hannibal Senior High in 1988. She lived and worked in the Pacific Northwest for a time and returned to Missouri in 2011.
She and her husband Chris, live on a farm between Palmyra and Philadelphia. They have one son, three daughters, and eight grandchildren. The family also has four hunting dogs and 2 cats.
Anna is involved with many community events and fundraisers. Currently, she serves with the Chamber of Commerce as chairperson for the Taste of Palmyra.
She likes to read, sew, quilt, and create Pinterest projects, while teaching her children and grandchildren how to cook and bake.